Close your eyes and envision the community you would love to come home to. Is it located on scenic, open land that's both private and close to town? Does it feature family-friendly amenities that allow you to enjoy quality time with your kids outdoors? If these are a few things on your 2021 "wish list," we're excited to introduce you to Harper's Preserve, a master-planned community in the heart of Conroe!
Now more than ever, you may be looking to settle into a brand new home with the perfect amount of space — in a community that feels just right. But all of these things don't mean that you have to give up affordability. In fact, Conroe has one of the lowest costs of living in Texas, which means you can enjoy the comfort of a new home along with an enjoyable (and affordable!) lifestyle.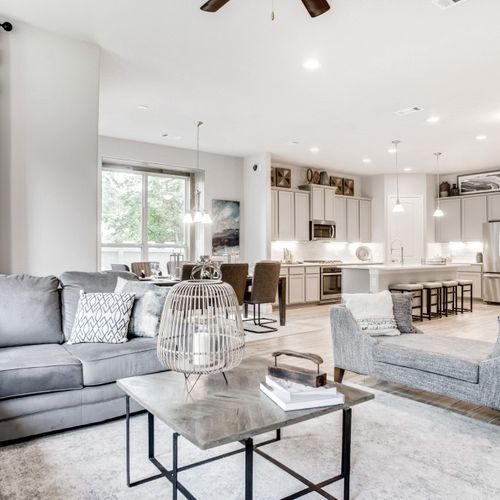 Functional Floor Plans
Your family is completely unique, from your big traditions to the little moments of your daily routine. That's why when you're looking for a new home to call your own, you should have a variety of distinct choices. At Harper's Preserve, we offer plans that range from up to 7 bedrooms, up to 5 bathrooms, and up to 3-car garages, so you can choose the one that fits the size of your family perfectly.
After a long day, there's nothing like coming home to an open-concept living area designed to bring your family together. With a beautiful kitchen and large family room that flow into one another (without walls in the way), you'll never miss a moment of laughter and conversation while you're preparing dinner. Best of all, with a cozy breakfast nook, you and your family can enjoy your mornings while looking out onto scenic views beyond the patio. 
Even after you find the right floor plan, you still might want to make changes. That's why we offer unique add-on options that allow you to make your home entirely your own, including an extra bedroom, a garage bay, master bedroom upgrades, distinct elevations, and more.
Beautiful Conroe Location
There are so many reasons why Conroe has an "A" rating from Niche — but you can also take it from us, this town is so easy to love! Just five minutes from your home, you'll find attractions like The Woodlands Town Center and Mall, which offers the best national retailers, boutiques, and world-class restaurants for all of your day-trip needs.
With easy access to I-45 and Grand Parkway, traveling is a breeze, whether you're commuting to work or leaving town to visit friends and family. And if you're a nature lover at heart, you'll be happy to know that Lake Conroe is just 30 minutes from your home, where fishing, boating, tubing, skiing, and so much more await. Because you never need an excuse to get outside for some fresh air and outdoor fun, of course.
Best of all, after a day exploring all that Conroe has to offer, you'll come home to a peaceful, private community filled with family-friendly amenities. Just outside your front door, your best memories are waiting to be made at the recreation center, pool, playground, and walking trails with your kids. Together, you'll experience the fun and freedom of a relaxing lifestyle in this community that's so easy to call home.
For more information aboutHarper's Preserve, please contact us at 866-419-1949.