Winters in Texas are generally mild, but in certain parts of the state, cold weather can hit hard and fast. In the event of a hard freeze (when temperatures drop to 30 degrees or below for at least a few hours), you can reduce the chance of damage to your home by taking a few quick precautions:
Keep your garage door closed, especially if the water supply lines are located there.
Disconnect and drain outdoor hoses, and wrap exterior hose bibs in insulating material.
Turn off the sprinkler system, and drain any water from the water supply lines. Your homeowner manual should have instructions on how to safely do this.
Leave the heat on in the house to help protect interior pipes. On walls that contain pipes that lead outside (like under the kitchen or bathroom sinks), open cabinet doors to allow heat from the house to warm those pipes. Keep the heat at a constant temperature day and night. This will prevent your system from having to work too hard (or even failing) as it tries to rewarm your house during a hard freeze.
Leave cold water dripping from faucets. The water stream should be about the size of a pencil. (Note: a hard freeze is NOT the time to try and conserve energy or water to lower your utility bills. The cost of major repair work will always be higher than spending a few extra dollars to keep your plumbing operational.) 

For tankless and tanked water heaters: occasionally run hot water during a hard freeze.
If electricity or water to the home is out for tankless heaters: immediately take steps to protect the tankless water heater by following internet instructions/instruction manual for your type of water heater.
If you are leaving your home for an extended period during the winter, it's a best practice to shut off the main water line to the house, just in case a freeze happens while you are away. Also, leave the heat in your house on, set to a temperature no lower than 55 degrees.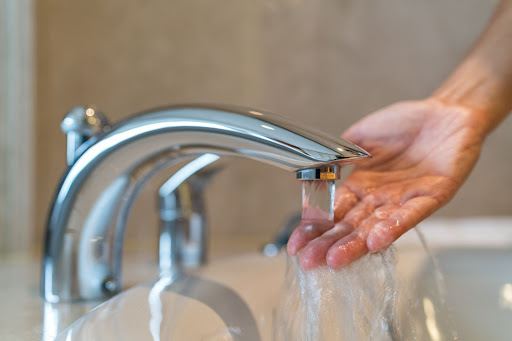 What To Do If Your Pipes Freeze...


If you turn on your faucet and notice that only a trickle of water comes out, chances are your pipes have frozen. Leave the faucet running and inspect the entire length of the pipe. If you come across a frozen section, take these steps to treat it as soon as possible:
Apply heat to the section of the pipe that's frozen. You can wrap an electric heating pad around the pipe with the dial turned to high, use an electric hairdryer, a portable space heater (do not leave this running unattended or use near flammable areas), or you can soak a towel in hot water and wrap it around the pipe, rewetting it frequently. (Note: DO NOT USE a blowtorch, kerosene or propane heater, charcoal stove, or any other open flame device. This could damage your pipes or even start a fire.)
Keep applying heat until the faucet is completely open.  
Check other faucets in the home to see if water is running. If not, treat that pipe in the same way.
If you cannot locate the frozen section, or if it is inaccessible, call a licensed plumber.


What To Do If Your Pipes Break
Turn off the main water supply and call a licensed plumber immediately.
Document any damage so you can properly submit an insurance claim, as your homeowner's insurance may help cover repair costs.
When the temperatures dip, don't take any chances with frozen pipes! These few, easy steps will go a long way to making sure you stay comfortable and safe in your home all winter long, no matter the weather.